Our Community
Testimonials & Social Media
Thanks to all of you who are riding, showing, and enjoying Lazy K Ranch horses.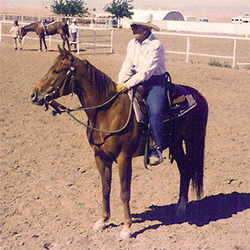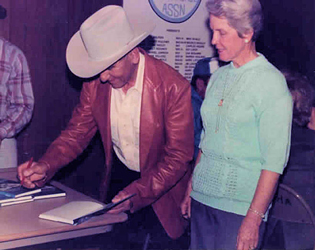 "I enjoyed riding and cutting on one of Knapp's talented mares. Tom, often worked with Sherry and Larry and their horses."
Margaret Dorrance |
Salinas, CA
Photo of Margaret riding a Cat O Lena 380 daughter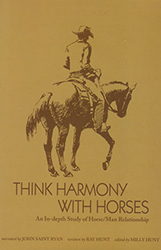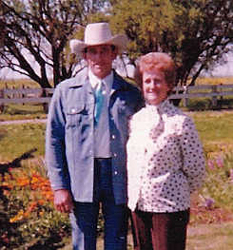 "I will always be thankful for the hours you [Sherry] put in giving feedback on the manuscripts in progress."
Milly Hunt Porter - Author of Ray Hunt's "Think Harmony With Horses" & Tom Dorrance's "True Unity" |
Bruneau, ID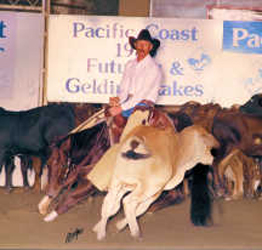 "Lazy K Ranch has in our opinion the most versatile types of horses. They are pretty, strong, and well structured. Raised outside and not box stalled, these horses really know their footing, making for a very athletic animal. They would fit any facet of the horse industry. Everyone we've talked to says they really enjoy the horses they have purchased form the Lazy K Ranch in Chowchilla, CA."
Jack and Christy Hitchings - Professional Trainers, Cutting, Reining and Cow Horse Judges.
Photo of Jack riding Cat O Lena 380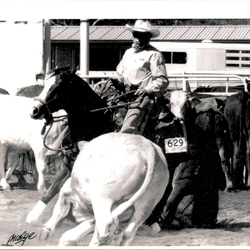 "I've seen several Lazy K Ranch horses ridden and they were all top quality."
Ted Robinson - Professional Trainer |
Oakview, CA
Photo of Ted riding dam of Lotta Stuff To Shine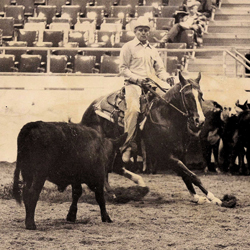 "I have ridden Lazy K Ranch horses for many years and they have all been equal to the best I've ridden."
Gerry Westfall - NRCHA Non-Pro Champion |
Le Grand, CA
"I really liked Chowchilla Cat. She was one of the first good horses that I had the opportunity to compete on!?"
Sandy Collier - NRCHA Open Champion, Clinician and
BeUnstoppable Web Casts |
Santa Maria, CA
"Metallic Red Cat is a big strong colt, big stop and really cowy. He is the real deal."
Jake Gorrell - 2017 NRCHA Open Champion &
NRCHA Million Dollar Rider |
Porterville, CA
Photo of Jake riding Metallic Red Cat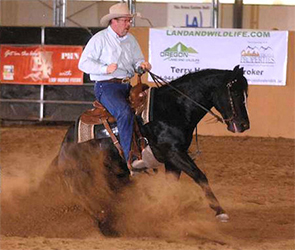 "One thing I have learned about competing in cutting and reining events is that if you want to win you have to have a horse that is well bred, athletic, intelligent, and conformationally correct. All of the horses I have purchased from Lazy K Ranch, have had these qualities and I want to express my appreciation for allowing me the opportunity to own so many great horses over the years."
Dave Lowe - Professional Trainer |
Eagle Creek, OR
Photo of Dave riding Little Hemi 380
"Cat O Lynx won the AQHA working cow horse class at the Fallon Stock Horse Spectacular, received the high score for fence work at the Western Cow Horse Assoc., 1999 Snaffle Bit Futurity and Armature Reserve Champion at the Pacific Coast, Working Cow Horse 2002. "I often call him my toughest cow horse.... And the one most people enjoyed watching going down the fence."
Donna Harman |
Red Bluff, CA
"Thank you so much for holding the Pick A Colt Day Sale! What a wonderful way to buy a great quality, reasonable, young horse. I'm very pleased with my filly. Buying online was easy and with your professionalism, I will recommend this sale again and again."
Tracy Smith |
Glendale, CA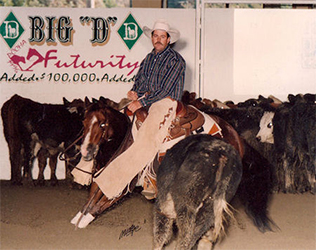 "Kit Cat Olena has won over $16,000 in NCHA money."
Steve Bates |
Coarsegold, CA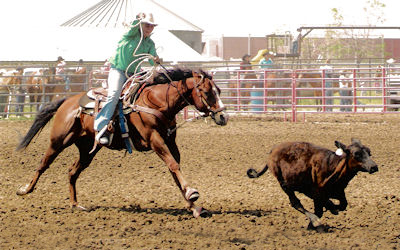 "Everyone loves Curley, especially the calf ropers...he has an awesome stop, but I think he'd back up from here to KS with the calf in tow!"
Michaela Dineen |
Keenesburg, CO
Follow us on Facebook and Instagram