Our Community
Testimonials
Thanks to all of you who are riding, showing, and enjoying Lazy K Ranch horses.
"I enjoyed riding and cutting on one of Knapp's talented mares. Tom, often worked with Sherry and Larry and their horses."
Margaret Dorrance |
Salinas, CA
"I will always be thankful for the hours you [Sherry] put in giving feedback on the manuscripts in progress."
Milly Hunt Porter - Author of Ray Hunt's "Think Harmony With Horses" & Tom Dorrance's "True Unity" |
Bruneau, ID
"Lazy K Ranch has in our opinion the most versatile types of horses. They are pretty, strong, and well structured. Raised outside and not box stalled, these horses really know their footing, making for a very athletic animal. They would fit any facet of the horse industry. Everyone we've talked to says they really enjoy the horses they have purchased form the Lazy K Ranch in Chowchilla, CA."
Jack and Christy Hitchings - Professional Trainers, Cutting, Reining and Cow Horse Judges.
"I've seen several Lazy K Ranch horses ridden and they were all top quality."
Ted Robinson-Professional Trainer |
Oakview, CA
"I have ridden Lazy K Ranch horses for many years and they have all been equal to the best I've ridden."
Gerry Westfall - NRCHA Non-Pro Champion |
Le Grand, CA
"One thing I have learned about competing in cutting and reining events is that if you want to win you have to have a horse that is well bred, athletic, intelligent, and conformationally correct. All of the horses I have purchased from Lazy K Ranch, have had these qualities and I want to express my appreciation for allowing me the opportunity to own so many great horses over the years"
Dave Lowe - Professional Trainer |
Eagle Creek, OR
"Thank you so much for holding the "Pick A Colt" Sale! What a wonderful way to buy a great quality, reasonable, young horse. I'm very pleased with my filly. Buying online was easy and with your professionalism, I will recommend this sale again and again."
"I wanted to say thank you for 25 outstanding years of Pick A Colt sales. Since we've been purchasing fillies from your sale for more than fifteen years and have ALWAYS been happy with them, I couldn't pass up two more foals this year. You offer top bloodlines, with disposition, conformation, and color, but most of all you represent all your horses with honesty."
Judy Rose of Sweet Water Mules
"I have done business with Lazy K Ranch since 1989, they are great, honest and trustworthy people, with quality Paints and Quarter Horses.""
Pam Diedrich |
Firebaugh, CA
"I have bought several horses at your Pick A Colt day and appreciate the quality horses that you are raising."
Tina Wilson of Wilson Livestock |
Covelo, CA
"We are so happy with both of the foals we bought and I get compliments on them everywhere I go and am always telling people about Pick A Colt."
Crystal Linder La Pierre |
Sunnyside, WA
"You might enjoy hearing about one of your youngsters. He's solid, sound hard worker with a good attitude for training."
Bill Lewis - Trainer |
Sonora, CA
"I got on her and in 2 weeks I had her turning barrels, she is now running consistently in the 1d and winning most small races I go to. Well, I thought I'd let you know how she was doing....I'm interested in purchasing a brother to her this year."
Casey Talia - A started filly purchased at Pick A Colt Day
"We have started breaking Color's filly, Ivy. Actually, there is no breaking involved. She's so willing. She is only two and stands 15 hands. We get all kinds of compliments on her."
"She is such a sweetheart and we already love her so much......Thank you for such a lovely filly!"
"I purchased a colt at your Pick A Colt Day Sale and I just wanted to thank you so much! He has already exceeded my expectations by a mile."
"I have one of your horses. She is an awesome stopper and works a cow great."
"This was his first horse show and he took two first, two seconds and a third. Very good for a ranch bred horse. We are just thrilled with this guy."
Christy - Foal purchased at Pick A Colt Day |
Littlerock, CA
"I just wanted to let you know how great she has been and with her registered name, you can watch for her in the reining show pen."
Rainie - Foal purchased at Pick A Colt Day |
Fort Collins, CO
"She is quiet, smart, level headed, nicely conformed, and moves like she was born on a cloud. We've owned enough good quarter horses to know when they have the moves. She is a dressage horse in a cow horse body, her lope/canter is so smooth, flat kneed, and ground covering. She throws her weight back and does that float."
Lennie Hoff - Foal purchased at Pick A Colt Day |
Manteca, CA
"My husband is so taken with her attitude that we may come out to your colt roundup in June and look for a nice horse for him."
Linda Chandler - Foal purchased at Pick A Colt Day |
Chandler Ranch, Sanger, CA
"I want to congratulate you and The Lazy K Ranch for another year of outstanding pedigrees."
"I could not have done so much with her this early without all that you have done with her. Thank you again so much for all your hard work. Please tell your crew that they are doing an excellent job."
Jennifer Wysong - Foal purchased at Pick A Colt Day
"I just want to tell you what a great horse he is. I am having 30 days put on him and the trainer is amazed with his disposition and ability. I am a novice horse person and really lucked out with this horse!"
Ann Machen - Foal purchased at Pick A Colt Day
"You couldn't have asked for a better minded horse, it's almost like he was born broke. His trainer said he was probably the easiest colt she has ever started."
Dana Bookwalter - Foal purchased at Pick A Colt Day
"I am lucky to have two great bred horses for the reasonable price I paid. Thank you again and the Ranch for such wonderful horses. See you in June."
Dania Ramirez - Foal purchased at Pick A Colt Day |
Monterey, CA
"I want to thank everyone that was there for a nice day on your ranch. I don't think I have seen that many nice people in one area in my life."
"Since he is getting older, I would like to start another colt that will someday replace him. I can't imagine replacing him with anything but another Lazy K foal."
Christine Miguel - Foal purchased at Pick A Colt Day |
Nunn, CO
"I love the horses you have and your breeding program. I think anyone would be very proud to have a horse from your ranch!"
"Arizona Hotrod, a dun filly purchased at Pick A Colt Day, won saddles and buckles. In 2003 she won $20,000. She was ACBRA Open Champion in 2004 and NBHA district Open Champion in 2005."
"I am so glad I attended Pick A Colt Day. I have a filly that is better than what I dreamed of. I can't wait to start riding her and putting her on cows. She is already showing major potential as a Cutter or Reiner! You guys are the best."
"Happy to say I still have a mare and gelding from Lazy K Ranch. Love them to pieces....my mare is just outstanding, so thank you again for providing us with some really quality horses."
"Thank you for producing and giving us a chance to own some of your wonderful horses. I wish there were more people in the world like you all!"
"We really appreciate seeing all of the wonderful horses you always have for sale each year. Any of your horses are always wonderful to be around and ride....kind and gentle. Your honesty is tops on our list as I am sure it is with all or will attend. You are special people with special horses. Hope to see you at the May 5th sale."
"This year our family had the pleasure of attending our first PICK-A-COLT day at Lazy K. We were lucky enough to have picked a beautiful mare in foal. We as a family have enjoyed riding her. We love her temperament & quality so much that we also looked on the web-site to see they also had 2 other mares available for sale. Of course they came home with us. Since then the mares have all foaled without incident, to roan babies! 3 for 3! What a joy to raise these babies from a reputable ranch. All the folks at Lazy K have been nothing but friendly, helpful & very honest! I would recommend anyone looking for a horse to check with Lazy K Ranch!"
Michelle Sota |
Madera, CA
Lazy K Ranch Alumni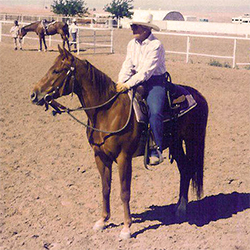 Margaret Dorrance and her Lazy K Ranch filly.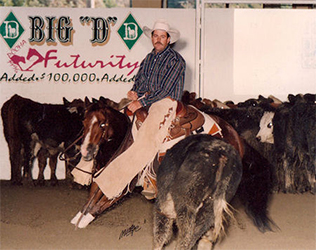 Kit Cat Olena ridden by Steve Bates. She won over $16,000. NCHA money.
Arizona Hotrod ridden by Stephanie Cosca. ACBRA Open Champion & NBHA District Open Champion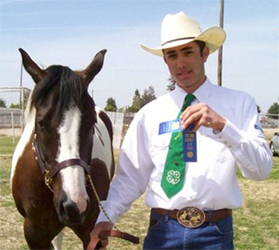 Dakotah and Jacob won 1st place in Halter at the Fresno County Fair in 2011
Cat O Lynx ridden by Donna Harmon. Cat O Lynx won the AQHA working cow horse class at the Fallon Stock Horse Spectacular, received the hi score for fence work at the Western Cow Horse Assoc., 1999 Snaffle Bit Futurity and Armature Reserve Champion at the Pacific Coast, Working Cow Horse 2002. "I often call him my toughest cow horse.... And the one most people enjoyed watching going down the fence", Donna remarked.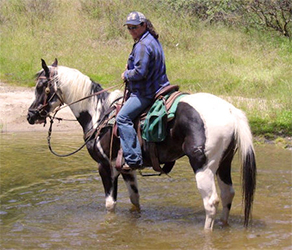 Gallant Frisco Knight ridden by Tammy Johnson. "He is a dream to ride"
Cat Olena Lynx ridden by Alex Segura
Lily ridden by Tessie Horak. "17 months old and she lets me sit on her and takes a few steps :)"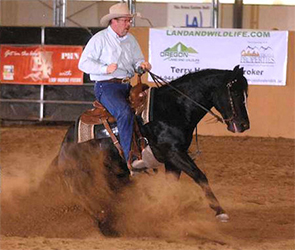 Little Hemi 380 ridden by Dave Lowe. NRHA, ORHA & RHANW money earner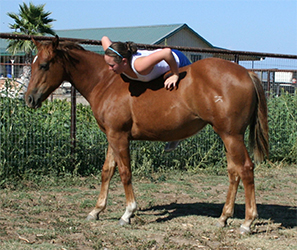 Blue Abbigaill and Kayne. "My filly is only a year old but I can already get on her back"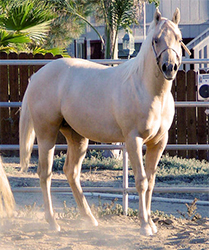 First Pick Colonel at 2 years of age. This handsome horse picked Jim Jacobson.
Chota and Dave Hardesveldt at Kelty Meadow in the central Sierras.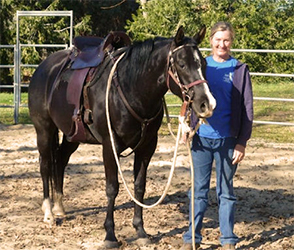 Sara and Ann Bates on the day of their first ride.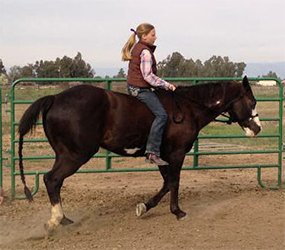 Gallants Black Shadow and Taylor out for a ride with just a halter.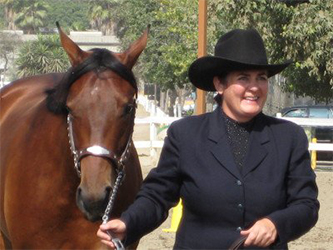 Ima Blue Dollie and Tracy Smith at their first show.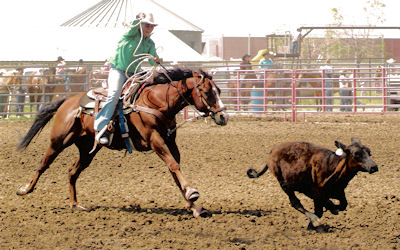 Curley, ridden by 16 yr old Michaela Dineen. Laurie writes, "Everyone loves Curley, especially the calf ropers...he has an awesome stop, but I think he'd back up from here to KS with the calf in tow!"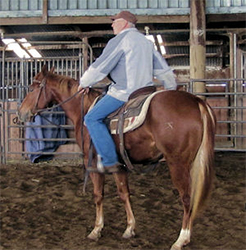 Ivy's second ride with trainer, Don Wright aboard. Ivy is a 2010 Shinin Like I Dunit and Lazy K Call Ivy filly. "She is not only stunning but so smart and willing. We expect wonderful things from her!" says Deanna Clark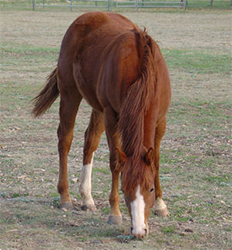 Spark's Princess Lena. Kim Verdoorn writes, "Lena is extremely smart and has been easy to train. Lena has been nominated for the NRHA futurity and we are looking forward to her becoming a star".
Sugar Bar Sparkles ridden by Leslie Jacquith